In today's experiment we are going to install windows 8 on virtualbox and see how well it works. Virtualbox is a very powerful and popular virtualisation tool that can be used to run a variety of oses. Our host os is ubuntu. It means that Ubuntu is installed on hard drive as an OS and virtualbox would be running in ubuntu. And inside virtualbox we are going to install windows 8 to try it out.
Requirements
So for this you are going to need your windows 8 iso along with the latest version of Virtualbox ( 4.2.6 currently ) installed on your host system.
Also make sure that you have plenty of RAM and hard disk space along with cpu cores to do this. We are going to give windows around 2GB of ram along with 25gb of disk space for the installation. So make sure you have enough hardware resources.
1. 25GB disk space
2. 2GB RAM
3. 2 cpu cores.
If its all ready, then lets begin.
Create a virtual device/machine
Launch Virtualbox and create a New virtualdevice with the following configurations.
1. Name : Windows 8 (or anything)
2. Type : Microsoft Windows
3. Version : Windows 8 or Windows 8 64bit (depending on your windows iso)
I preferred creating a Fixed size disk. Dynamically sized disk would create a small sized initial disk but would keep expanding the size during the installation of windows, making the install process slower. Instead having a fixed size disk would take some time to create, but the processes later on go fine.
Start the virtual drive and give it the windows 8 iso
Once the device is ready, start it from virtualbox manager window. It will popup a dialog asking for the windows disk/iso. Select your iso and start the boot process.
It would boot up like previous windows versions and installation process is same like before. The entire installation and configuration process would take around 45 minutes or so. After that, it should boot up and the Metro Start screen should come up.
Look out for a big button named "Desktop" click it would take to the old desktop.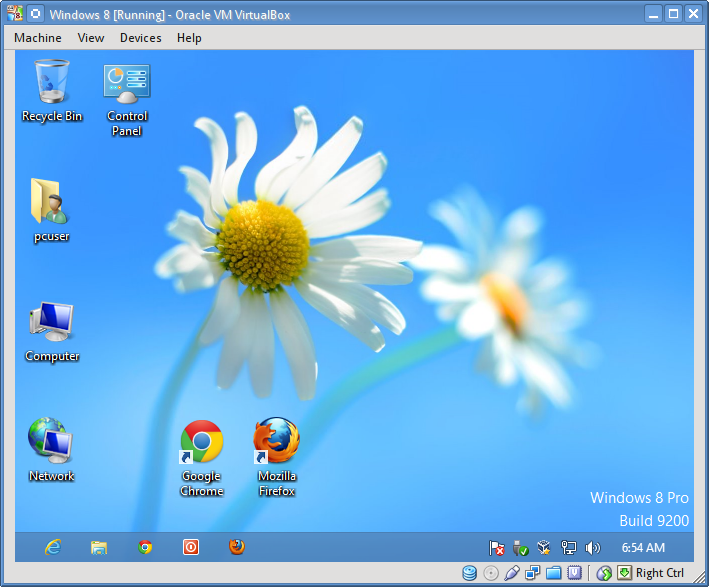 Install guest additions
After the windows installation process completes and it boots to the Start page, the next important thing to do is to install the guest additions for better performance like proper screen resolution, copy pasting across guest and host etc.
To install the guest additions simple click Devices > Install Guest Additions in the virtualbox window. Then click on Desktop image in the Start page. It will bring up the traditional desktop like earlier windows versions. Next click the File Exporer icon in the taskbar which will open up something like My Computer. Now navigate to the cd/dvd drive which will have the guest addition cd mounted. Click the windows installer and proceed with installation of the guest additions.
Once the guest additions installation is over, restart windows. Now when it starts the screen resolution etc should all look correct.
Setup Networking
By default windows 8 might not detect network support inside virtualbox. It is simply fixed by changing the network settings in virtualbox. Shutdown windows and close the virtual image. Then in virtualbox manager window, right click the windows 8 virtual disk and go to settings. Then navigate to the Network tab and make settings as follows
1. Attached to - Bridged Adapter
2. Adapter Type - Intel PRO/1000 MT Desktop
Here is a screenshot
Save the settings and start the windows machine. Now windows should be able to detect the network device and would assign an ip address if dhcp is enabled in a local router at 192.168.1.1 , or otherwise the ip address has to be configured manually which can be done in the control panel.