In a previous article we saw how a windows netbook/laptop can be used to share a tata photon connection with other computers on a LAN. Now we shall do the same thing on Ubuntu. The technique is very simple and uses a tool called firestarter. Internet connection sharing can be setup on linux by adding rules to iptables, however it is not very user friendly and difficult for users with no previous experience of Linux. However firestarter makes it very simple and does the thing in a few clicks. So lets do it.
Configure the Lan interface as a gateway
The first thing to do is to setup the lan interface as a gateway. In most cases it is eth0. Give it the ip address 192.168.1.1 and netmask 255.255.255.0
Do not give it any gateway. Make sure that other computers over the LAN can ping it.
Setup firestarter
Now insert the tata photon device and connect it to internet. Once connected the laptop/netbook should be able to browse internet.
First install Firestarter by issuing the following command at the terminal.
$ sudo apt-get install firestarter
Now launch firestarter from the menu. On the first run it would present a wizard. The wizard can also be launched from the menu "Firewall > Run Wizard" later. Now follow the wizard and do these things.
1. Select the interface which has the internet access. Tata Photon acts as a modem to connect to internet. So it is listed as a ppp interface.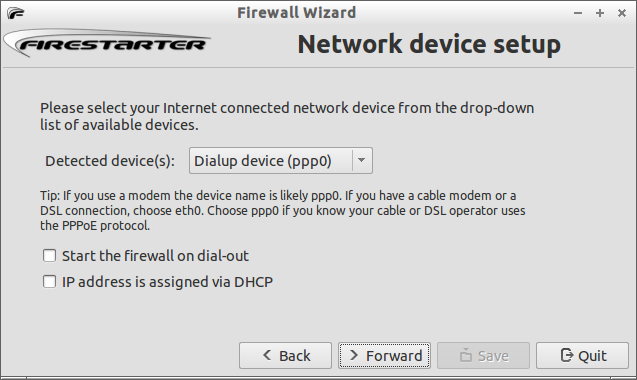 2. Next select the interface that is connected to the local area network or LAN. It would be eth0 in most cases. Also make sure to select "Enable Internet Connection sharing"
3. Then start the firewall and save.
Test internet from other machines
Once firestarter is up, check whether other computers over the lan can access internet or not. If they can open google.com then the setup is complete and all computers are connected through the photon device.
Last Updated On : 3rd March 2013